We believe a strong business backbone supports quality rehabilitation services.
By building a partnership that keeps your clinical and administrative functions as a top priority, our network members benefit from our innovative industry knowledge and trusted clinical guidance—all while experiencing a cohesive, resourceful network.
Why choose a Mid-American Rehabilitation Network provider?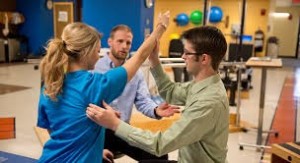 It is our goal for our Members to be YOUR rehabilitation provider for life. When you need any follow up or additional rehabilitation services, your Mid-Am therapist knows your history, knows your needs and can treat you more efficiently, effectively and completely. They maintain strong communications with your physician and provide appropriate reporting to their offices.
Why join the Mid-American Rehabilitation Network?
Business Guidance
Personal, one-on-one consultations
Bi-annual site reviews
Provider/payer resolutions
Supportive Programs
Functional outcome and patient satisfaction reports
Survey opportunities for comparative data analysis
Legal fund program
CEU opportunities focusing on practice management
Available Resources
Networking with clinic owners
Access to online resources
Manuals for admin procedures
Assistance with credentialing